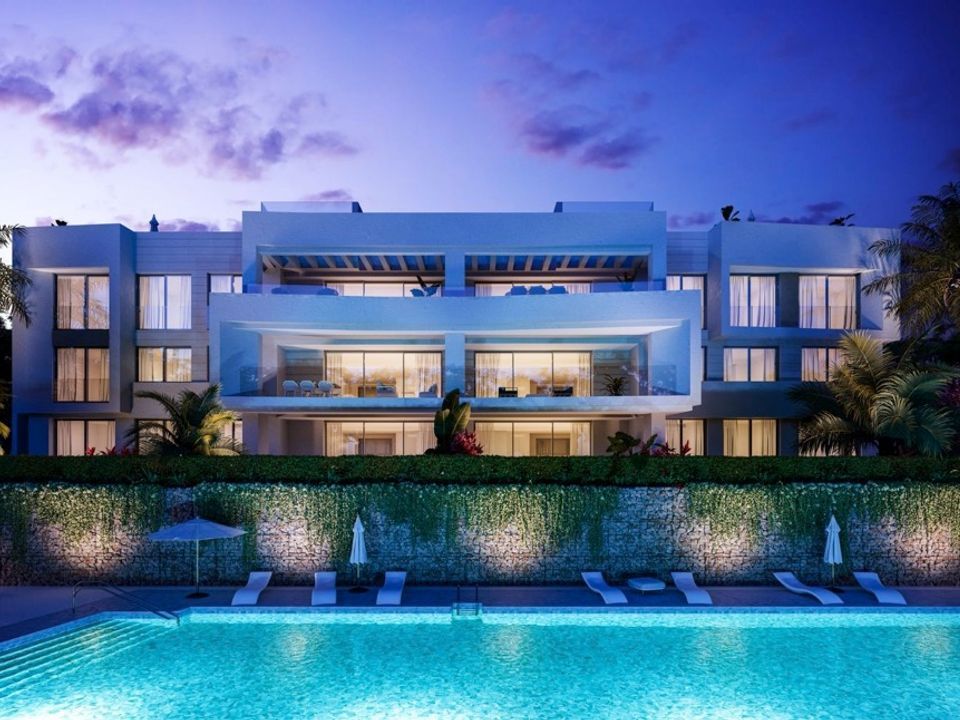 Apartment in Marbella, for sale
Reference number: AP0129
Beautiful apartments in new development - Marbella
Soul Marbella is a luxury residential resort that overlooks a championship golf course and the sea just 5 minutes from Marbella town centre. We have three phases, one that is currently in the last stages of construction and the second and third that are starting construction soon. All of the residences are very spacious with large outdoor spaces enjoying full sunshine all day.
Resort facilities: Concierge service, Cafe, Co-working, Gym, Running Circuit, Indoor Pool, 5 Open Air Pools, Spa, Security, Gardens, Private Covered Garages, Storage Rooms, Smart Technology.
1st Phase: 3 & 4 bedroom apartments, penthouses, townhomes and villas
2nd Phase: 2, 3 & 4 bedroom apartments and penthouses
3rd Phase: 4 Bedroom semi-detached villas with private pools

From 660,000 €

Property Features
- Sea Views
- Mountain Views
- Gated Community
- Security
- Concierge
- Indoor Heated Pool
- Spa Facilities
- Rooftop Terrace
- Large Terraces
- Gymnasium
- Garden
- Swimming Pool
- Parking
- Air Conditioning
- Underfloor Heating
- Close To Town
- Close To Amenities
- Close To The Beach
- Private Garden
- Privacy
- Luxury Qualities
- First Class Location
- Close To Golf
- Golf Views
- Designer Home
- Modern Design
- Rental Management
- Infinity Pool
- Tropical Gardens
Details
Type: Apartment
Transaction: For sale
Province: Málaga
Town: Marbella
Bedrooms: 3
Bathrooms: 2
Energy certification (consumo):
Beautiful apartments in new development - Marbella
Soul Marbella is a luxury residential resort that overlooks a championship golf course and the sea just 5 minutes from Marbella town centre. We have three phases, one that is currently in the last stages of construction and the second and third that are starting construction soon. All of the residences are very spacious with large outdoor spaces enjoying full sunshine all day.
Resort facilities: Concierge service, Cafe, Co-working, Gym, Running Circuit, Indoor Pool, 5 Open Air Pools, Spa, Security, Gardens, Private Covered Garages, Storage Rooms, Smart Technology.
1st Phase: 3 & 4 bedroom apartments, penthouses, townhomes and villas
2nd Phase: 2, 3 & 4 bedroom apartments and penthouses
3rd Phase: 4 Bedroom semi-detached villas with private pools

From 660,000 €

Property Features
- Sea Views
- Mountain Views
- Gated Community
- Security
- Concierge
- Indoor Heated Pool
- Spa Facilities
- Rooftop Terrace
- Large Terraces
- Gymnasium
- Garden
- Swimming Pool
- Parking
- Air Conditioning
- Underfloor Heating
- Close To Town
- Close To Amenities
- Close To The Beach
- Private Garden
- Privacy
- Luxury Qualities
- First Class Location
- Close To Golf
- Golf Views
- Designer Home
- Modern Design
- Rental Management
- Infinity Pool
- Tropical Gardens
Info Request
For more information about this property, complete the details below.
You can also call:
+34 692252765
more
Energy certification
Energy certification: TA