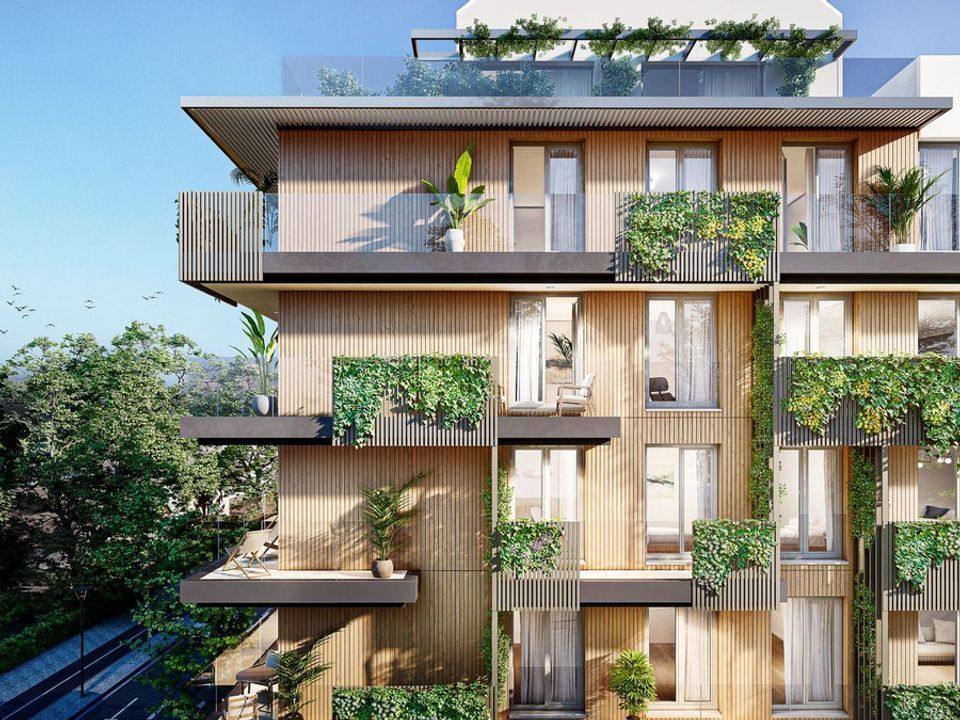 Apartment in Marbella, for sale
Reference number: AP0146
Living area 120 m²
Bedrooms 3
Bathrooms 2
Brand new development in Marbella's town centre - 100 meters from the beach - 3 bedroom apartment
One of a kind - new development in Marbella Town!
Spectacular new residential development located in the heart of the city of Marbella in Costa del Sol, just metres from the promenade, beach and nautical sports club where you can enjoy sports such as paddle surfing at sunset. This is a one of a kind location due to the scarcity of land for new constructions in Marbella Town. This is a perfect location for those who are looking for a cosmopolitan vibe of Marbella town with its charming Old Town and lively seafront promenade. It also represents a great investment opportunity.
The fabulous building of spectacular design divided into 5 floors, has a total of 16 apartments and penthouses of 2 and 3 bedrooms, with surfaces ranging from 124 m2 to 186 m2. Spacious and modern, these are truly luxury Marbella residences rarely found in such central locations. Each unit has an underground parking space underneath the building and a storage room. The building will have a private gymnasium for owners. The properties will be fully customisable in terms of qualities, according to the tastes of each client, offering a wide range of finishes and improvements.
Located in the central area of Marbella, in the heart of the city centre, this new development occupies an envious beachside position. Head just 100 meters south and you find a selection of Marbella beaches, main Marbella Port with all its restaurants and bars and incredible ambience all year round. Excellent location where you can live without the need to have a car
Details
Type: Apartment
For sale/for rent: For sale
Province: Málaga
Town: Marbella
Bedrooms: 3
Bathrooms: 2
Living area: 120 m²
Constructed area: 120 m²
Energy certification (consumo):
Brand new development in Marbella's town centre - 100 meters from the beach - 3 bedroom apartment
One of a kind - new development in Marbella Town!
Spectacular new residential development located in the heart of the city of Marbella in Costa del Sol, just metres from the promenade, beach and nautical sports club where you can enjoy sports such as paddle surfing at sunset. This is a one of a kind location due to the scarcity of land for new constructions in Marbella Town. This is a perfect location for those who are looking for a cosmopolitan vibe of Marbella town with its charming Old Town and lively seafront promenade. It also represents a great investment opportunity.
The fabulous building of spectacular design divided into 5 floors, has a total of 16 apartments and penthouses of 2 and 3 bedrooms, with surfaces ranging from 124 m2 to 186 m2. Spacious and modern, these are truly luxury Marbella residences rarely found in such central locations. Each unit has an underground parking space underneath the building and a storage room. The building will have a private gymnasium for owners. The properties will be fully customisable in terms of qualities, according to the tastes of each client, offering a wide range of finishes and improvements.
Located in the central area of Marbella, in the heart of the city centre, this new development occupies an envious beachside position. Head just 100 meters south and you find a selection of Marbella beaches, main Marbella Port with all its restaurants and bars and incredible ambience all year round. Excellent location where you can live without the need to have a car
Info Request
For more information about this property, complete the details below.
You can also call:
+46 703514029
more
Similar properties